Virtual tour to the trolleybus depot in Gdynia
Due to the fact that during COVID-19 pandemic, live tours in the Gdynia trolleybus depot could not be organized for visitors who are interested in electric public transport, in July and August 2020 the trolleybus operator PKT (Gdynia, Poland) has filmed the virtual tour of the depot (in Polish language with English subtitles).

Photo: Virtual panorama tour to the trolleybus depot (PKT)
During the online site visit, people can have a look at many locations in the organization:
workshop hall
trolleybus washroom
one of the substations supplying power to the trolleybus grid
parking area
conference room
dispatcher's office
warehouse
lacquer rooms
19 short videos were prepared in various places, and by clicking on the speakers, visitors can listen to individual experts talking about particular aspects of Gdynia trolleybus transport system, ranging from its tradition and history, plans for further expansion, EU projects realized to more technical subjects such as functioning of the trolleybus grid power management centre, battery trolleybus fleet in Gdynia or the role of the depot building in the Energy Management System.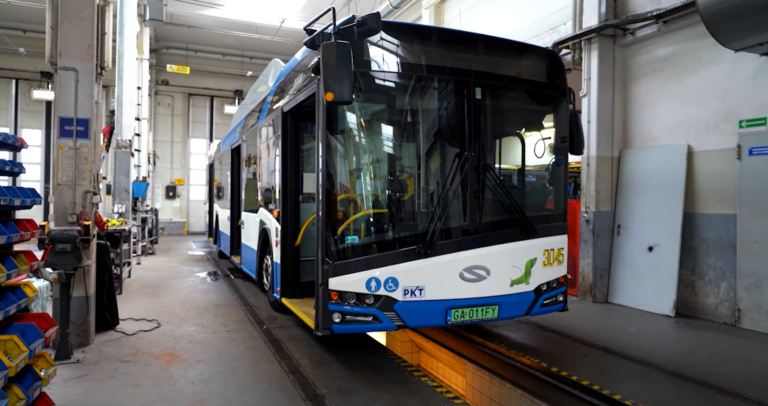 In each of these places, everyone can take a 360 degree panorama tour to see how the depot and other important locations in the company really look like, providing the experience as if the visitor was really on the spot. One of the short movies presents activities being implemented in the EU projects currently run by PKT, Interreg EfficienCE project included.
The tour was co-financed from the programme INTERREG South Baltic (CAR project).
We invite and encourage you to visit the Gdynia trolleybus depot and get to know the intricacies of its functioning by taking the online tour in the following link: https://video-dron.pl/panorama-360/Test_PKT/PKT3/tour.html
The virtual tour was introduced in detail in the webinar on "Innovations for energy-efficient depots" by Marta Woronowicz from trolleybus operator PKT.
Have a nice tour!
Source: Interreg EfficienCE
Author of the article: Marta Woronowicz
Background photo: PKT