The first mobile charging station for electric cars powered by a trolleybus network was built in Gdynia. It is a joint project of the City of Gdynia and the municipal trolleybus transport operator PKT. A press conference was held on the 9th June at the PKT headquarters about this unique mobile charger, which will use recovered energy from the braking of trolleybuses.
Gdynia is one of the three cities in Poland that use the advantages offered by trolleybus transport. Therefore, the city of Gdynia and PKT have completed two EU projects by implementing and testing an innovative solution, a mobile charging station for electric cars, powered by the trolleybus network.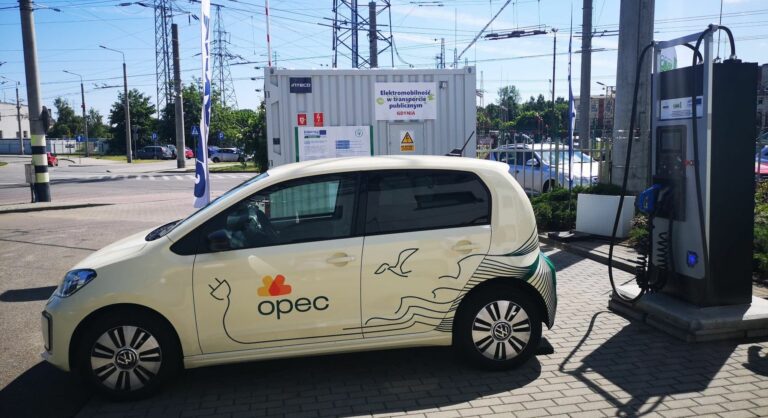 – Today we are implementing a device for testing, which is not available for residents during the testing phase, but we hope that after it everyone will be able to use the service. It is quite an unusual device that allows for the installation of a mobile charger for electric vehicles. This kind of charger is not permanently connected to the ground and can be moved wherever we have a traction network, and uses energy that has been generated in the recuperation process – said Mrs. Katarzyna Gruszecka-Spychała, Vice Mayor of Gdynia for economy at the press conference.
An energy storage inverter has been designed and constructed by PKT within the EfficienCE project (Energy Efficience in Public Transport Infrastructure – INTERREG Central Europe), which is a device for processing excess braking energy and traction power. It allows for capturing excess energy generated by the braking of trolleybuses from the grid, and for the management of this energy. Interestingly, the inverter uses a used battery that will serve as an energy storage.
On the other hand, a mobile charging station for electric cars was built as part of the project CAR (Creating Automotive Renewal – INTERREG South Baltic) by the city of Gdynia, allowing them to be charged with different ranges of power and electric current.
The synergy effect of the projects is a station that can be connected to the trolleybus traction network anywhere in the city. A prototype storage energy inverter with a connected mobile charger for electric cars was launched in June at the parking place of Gdynia trolleybus depot.