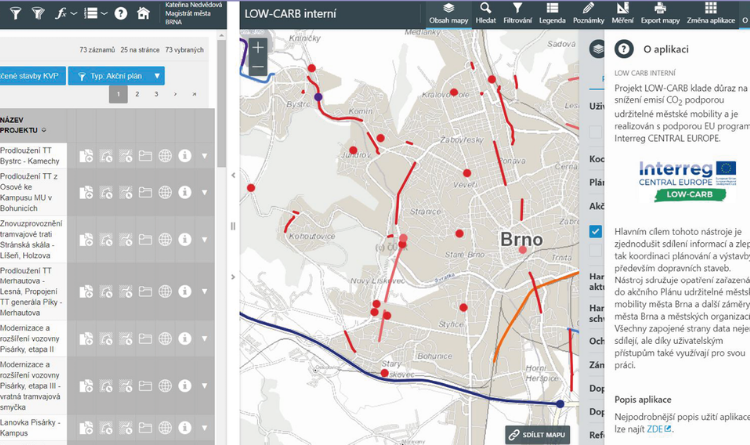 Need a tool to help you monitor your SUMP?
In 2017 – 2019 the City of Brno finalized the design and development of a 'monitoring tool' that helps both the coordination and engagement activities of a SUMP's development.
Monitoring and evaluation in the SUMP process are necessary to ensure that agreed objectives are achieved within time and budget constraints. Here lies the primary niche for the newly developed monitoring tool. Mapping measures in the GIS suite provides a clear visualized overview with easy to access data and information. I.e. details of who is responsible for which measure and over what time horizon, not to mention the respective funding source. It is therefore valuable for multiple phases of SUMP development: the measure selection process during the SUMP's preparation, implementation phase of each measure, and evaluation of measure package impacts. 
Since cooperation and discourse among all stakeholders are essential in a SUMP process, the monitoring tool has a second parallel purpose. It should be used as a visual cue and guide for engaging with stakeholders. The tool can be used to display selected measures and demonstrate cumulative intended impacts of the whole measure package. This provides a starting point to continue engagement in a co-creative process driven by easy access of information in the tool directly to stakeholders.
The tool is publicly available on the municipality's website at  https://gis.brno.cz/. The tool can be also accessed directly HERE.